Getting organized
Before you rush off with your camera, think about the things you'll need to help you get great pony pics. They include:
- your camera
- a memory card
- treats for your pony
- something to attract your pony's attention - like a bell, favourite treats or even a plastic bag to rustle
- grooming kit
Camera settings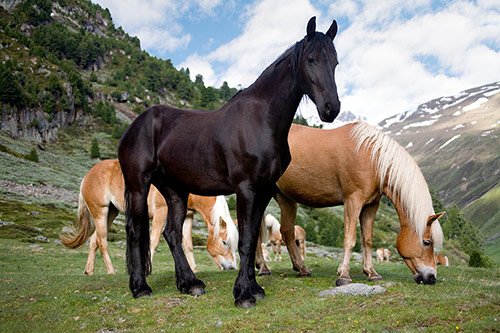 Not boring - but absolutely necessary! If it's your first time and you're really only practicing, then set your camera to take the maximum number of pictures. You'll want to take lots so you can find out what works and what doesn't as well as the kind of horse pictures you like best.
If you already know what you're doing and are taking these for real - then do set your camera to the highest resolution. It will mean you can take a lower number of pics but the quality will be better and you will be able to get them printed to a larger size - so it's worth doing.
There's nothing worse than taking a brilliant photo of your pony and not being able to print it to a decent size! Low resolution images don't print incredibly well above 6"x4". So the rule is - max resolution whenever possible!
Take a friend
It's more fun and definitely easier to take pictures of your horse with a friend to help attract his attention. Get them to stand just to the side and behind you. Once you're both positioned and your camera is ready, get your friend to ring the bell or whatever you've brought with you. That way, when he looks up, you'll get the ideal shot of him looking towards you with his head up and his ears forward.
Groom First
You probably won't want a full groom before taking photos of your horse or pony, but it is a good idea to take off any major stains and mud round his face and neck.
Take lots of photos
This is where your extra memory comes in handy. The more photos you take, the better you'll get at it. The other reason for taking lots of photos is that when you come to look at them later, you can erase all the ones where he blinked as you clicked the button and still have some to use!
Try different angles
Take pictures of the whole of your horse including tail and hooves! Then try just a head shot. Don't forget to use your zoom, if you have one, to get in close. And don't forget to check out the background before you click. If there's an ugly building behind - move!. Lots of people forget that they can move when they have a camera in their hands. Just taking a few steps to the left or right can sometimes result in a much, much better photo.
Have fun
When you or your pony get bored- stop! You can always have another go another time. Above all, have fun taking pictures of your pony.
Gayle Norbury, horse lover from childhood, prints horse, pony and pet pictures onto a range of gifts at ponypics.co.uk [http://ponypics.co.uk/] There are loads of horse pictures to look at and more tips on how to how to photograph horses [http://ponypics.co.uk/article/4/Taking-Better-Horse-Pictures/]
Article Source: http://EzineArticles.com/?expert=Gayle_Norbury